Welcome to Our Parts Department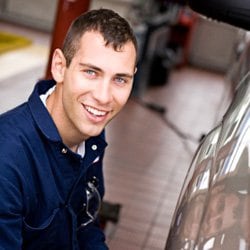 Finding the Proper Parts for Ford Maintenance at Farrow-Ward Ford Inc.
Is your new Ford in need of repairs? Do you need to source parts or service for your automobile? If so, Farrow-Ward Ford Inc. encourages you to make an appointment with our service and parts department in Ripley, MS. We have a number of expert technicians on our staff, and they can take on any repair that you need to be completed. We also have a very versatile parts department, and we have the ability to source all kinds of parts from the manufacturer of your vehicle.
Why Choose Original Parts For Your Ford
Ford models are exceptional when it comes to quality, but there will inevitably be times when work needs to be done. It's important that you utilize OEM parts for this purpose.
OEM parts are made and sourced from the manufacturer of your Ford automobile. OEM parts provide several benefits, such as that specific part being made specifically with your automobile in mind. You don't have to stress about it not fitting or causing problems. You may also reap the benefits of warranty coverage from the manufacturer with each of these OEM parts that you buy through Farrow-Ward Ford Inc.
You know your automobile better than anyone. If you hear an odd sound while you're driving, something doesn't smell quite right, or there's a liquid of some sort leaking out of the bottom of your vehicle, this warrants a call to our dealership.
We'll bring your vehicle in for an appointment, diagnose the issue, and we'll help you determine what parts are needed to take care of the problem. We can also provide you with the labor and service needed. We also offer parts for any modifications or upgrades that you wish to make.
Contact us today to learn more or make an appointment.